Upgrade to ShieldPro
ShieldPro accounts are now available for those who want them. Upgrading your account (which has a one-time cost) will:
Allow you to test Shield Rebirth
Remove ads in-app and on remote cpanel forever
Increase device limit (no more Too Many Devices)
Unlock ShieldPro-only remote features
Unlock ShieldPro-only access to special features, including features in beta
Unlock ShieldPro-only support/chat
Special discord role
Our gratitude towards your patronage
AD
These features are for (1) account only. To use these perks on multiple accounts, you must upgrade each account.
We are working to add more features and further improve ShieldPro perks over time. If this is something that interests you, open a #support-ticket to upgrade your account or scan the QR code and include your Shield username. You can also send directly to our paypal address: [email protected] and include your Shield username as well. See below for basic pricing on device limit increase:
$1 = +1 Device.
If you want to add 5 device slots, its $5
If you want to add 10 device slots, its $10, etc.
We appreciate the support.
To upgrade your account, click the red button or scan the QR code below. Please include your Shield username and email address associated with your account in the MEMO of the Payment/Donation. You can also include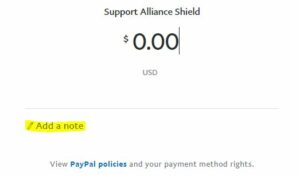 your Discord Username to receive your ShieldPro role so you can download Shield Rebirth Knox Fix. We appreciate your support. If donations are not allowed in your country, you can send a PAYMENT directly to [email protected] through PAYPAL.
Or scan the QR code to initiate a donation: