FIREWALL & ADBLOCK

Firewall & Adblock will only work with KNOX. Be sure your phone has Knox before trying to use the Firewall & Adblock. If you are unsure if your Samsung device supports Knox, check the model number here. Be sure to see if it says supported or not because all Samsung devices are on the list, marked either supported or not.
AD
The firewall gives you a lot of options to control what comes in and out, and is designed to give you finely-tuned control over all the apps on your phone. You can filter rules by tapping the horizontal yellow lines in the top-right. To search for something specific, tap the magnifying glass and use keywords to find what you're looking for. The firewall can:
Per-Package/App Policies

Block/Restrict Wi-Fi, Data, or all network access

Add custom rules

AdBlock

AdBlock custom rules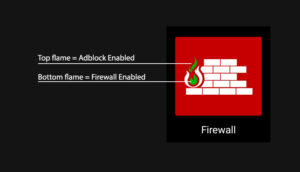 ---
To enable the firewall or adblock, flip the switches along the top. The icon on the main screen will have 2 parts of the flame lit depending on what you have enabled. If you enable the firewall, the bottom flame will be green. If you enable adblock and firewall, then both flames will be green (as shown above).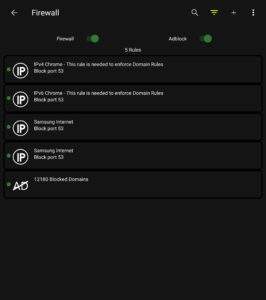 To use the larger list for ad blocking you can enable the Beta Ad List, but keep in mind – this is a test list. To enable it, select the 3 dot menu in the top-right and check Beta Ad List: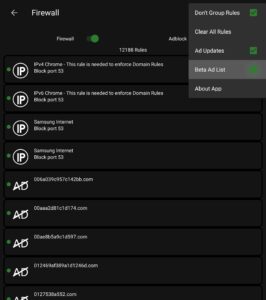 Checking the "Ad Updates" button allows your list to stay updated. We are constantly adding new domains to our growing database to improve the accuracy of Adblock.
---
To add new rules to the firewall, click the + button at the top. You have the options to block: Domain Names | Apps | IPs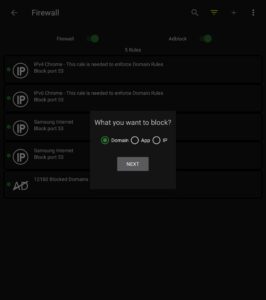 ---
Entering a domain rule:
Enter the domain you would like to block

Example: yahoo.com

Select 'www' to include www.yahoo.com

Select all sub-domains to block (i.e. news.yahoo.com, sports.yahoo.com, mail.yahoo.com, etc)

If you want to block the domain from an application, uncheck the box and type in the app name you want to block, and it will auto complete with a list of apps on your device

If you want this rule to be applied to All apps on your device, leave the last option checked √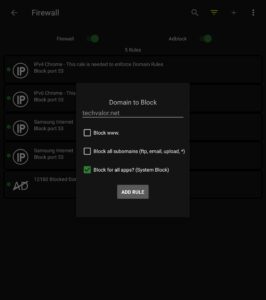 ---
Application rule:
Start typing the name you want, and it will auto complete with a list of apps on your device

Choose app and select the rule you'd like to apply:

Block Mobile

Block WiFi

Block All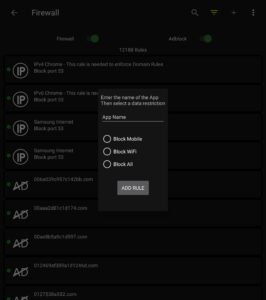 ---
Block IPs (still in development):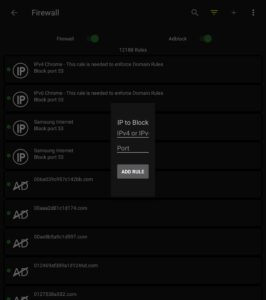 AD