If you enjoy using the Shield and want to contribute to its development and keep it free to use or without ads, we appreciate it! We currently accept PayPal only (working on other methods). You can tap the button or scan the QR code below. If you are unable to support shield, please consider leaving us a 5 star review on the Google Play Store, because this will help us a lot.
Donation perks:
Patron Discord role
Priority Support Tickets
Private Discord VIP channel to chat directly with developers
Increased device limit (use your Alliance account on more than 2 devices)

$1-9 = 5 devices

$10-15 = 10 devices

$16-20 = 20 devices
Please include your Shield username and email address associated with your account in the notes of the donation. You can also include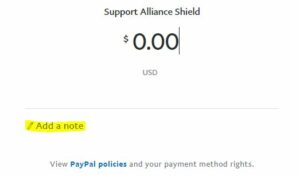 your
Discord Username
to receive your
VIP role
. Thank you.
Or scan the QR code to initiate a donation: